Above — Grand Giveaway Program: We awarded a $50,000 prize to one of our long term customers. She has been a customer for over 30 years starting as a Junior saver.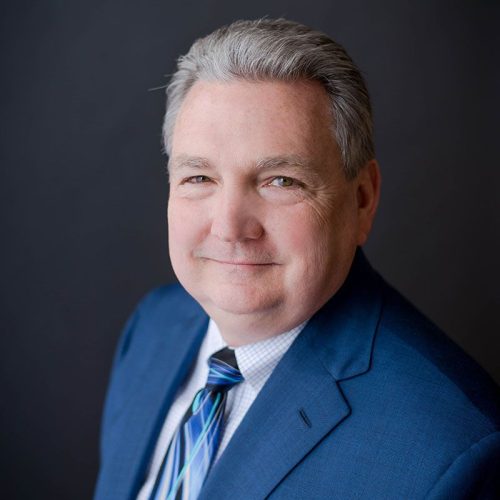 MIBA recently sat down with John Denkler and got to know more about him, his career and his thoughts on the industry. We would like to thank John for his time and hope you enjoy getting to know him as much as we did. The following are excerpts from our conversation.
John has been in the banking industry for 40 years. John and his wife, Kris, have four children and six rambunctious grandchildren. When he isn't working, he enjoys being outdoors. Every year, he looks forward to hunting during deer and turkey season and has recently started to get back into fishing.
He was born in Hannibal, Missouri, where many of his relatives and grandparents lived. At the age of five, he moved just a few hours south to Jefferson City, Missouri. John spent much time during his youth going back to Hannibal to help his grandfather on his dairy farm. John fondly remembers a few of the lessons he learned from his grandfather, "He taught me how to milk a cow, and I also learned what it means to be kicked by a cow and thrown up against the side of the barn." His father also farmed part-time, and John mused, "Farming is in my blood."
When deciding what career would be best for him, he had a real desire to be involved with and help the ag/farming community. John always had a knack for numbers and was good at managing money. Having spent time with his grandfather and seeing the different challenges that farmers faced, he knew that the best way he could help his family was to get a degree that helped farmers from the financing side.
John attended college at Missouri State University, formerly Southwest Missouri State University, located in Springfield, Missouri. He received an ag business degree with a minor in Banking and Finance.
That led him to his first job, working for Farm Credit in the Springfield, MO, area. He learned a lot there because, at the time, the country was right in the middle of the 1980s farm crisis. "It was a real baptism by fire, as they say," John recalled, "learning and understanding what was going on, why it happened and doing my best to help farmers."
After that experience, John wanted to shift focus. "I was looking for a potential career change with what was happening at that point, and I knew that I liked lending and banking aspect and thought a great way to get experience would be to be a bank examiner," he said. John went to work for the state of Missouri, Division of Finance as a bank examiner. It was a great experience, and after five years, he jumped at the opportunity to work for First State Community Bank, at that time known as First State Bank of Farmington.
At the time, the bank was growing and had just made a couple of acquisitions and were looking to augment its team. They brought John in to help with loan reviews and loan administration. He went from that position to being the Chief Lending Officer and was in that role for 22 years. He then migrated to the Chief Operations Officer and then up to the President and CEO of First State Bancshares.
John attributes his leadership style to his mentor Bill Cooper, who was the Chairman of the bank when he first started. One of the most important lessons that Bill taught him was that everyone is important. Bill would often say, "Every one of us is no less important than I am to this organization. The janitor is no less important because they're the person that creates the first impression of our organization; the teller makes an impression on our customers day in and day out. Egos need to get checked at the door if you're going to keep your company moving forward."
When asked about the challenges facing the community banking industry right now, John said that "Our biggest challenge right now is making sure that we continue to be the entity that is handling the payments for our customers." He continued, "When I look at it from the banking standpoint, financial institutions of this country have been the ones in control of the payments. We help facilitate those payments for a business, for people, for everything back and forth, and that is under fire right now." John knows that banks have got to stay on top of what's happening with payments and keep pushing the industry to protect the bank's position because it plays to the fundamentals of how the industry has been built. "We can do our lending, but if we don't have payments, we need to figure out a whole different way to fund that lending and how we're going to make money doing that lending.
Another aspect John is focused on for financial institutions and particularly community banks, is to remain relevant to existing and future customers. He believes that customer relationships are important going forward, but it must be married with technology.
Helping the community is important to John. Each year, the bank sets funds aside and picks out different local organizations to help with their Impact Project. "We've done everything from buying backpacks of supplies for school children to providing lunches for the needy," John said. This is one of his favorite work experiences.
Outside of work, John and his family support many charities, including the Red Cross, Knights of Columbus, St. Vincent de Paul Food Pantry and the Southeast Missouri Food Bank. Additionally, each year they helped provide Christmas presents for the underprivileged through St Francois County Community Partnership. In addition to making a donation, John gets his grandchildren involved in shopping and picking out gifts to be donated. It has become a special family tradition.
Membership with MIBA and ICBA is important to John. Personally, John has been involved with MIBA for almost 20 years and the bank for even longer. When asked about the benefits of membership, John said that there are many. The relationships made with other bankers who have similar mindsets are invaluable, and shared insights into the industry are helpful. "I have not come from a meeting yet where I have not gained some insight that has helped my bank grow," John said.
When John mentors others, he offers this advice:
Do an assessment of yourself. Know and understand the why behind what you do. What is that that drives you to get up and go every day? Knowing why you're doing your work serves two fundamentally important purposes: it motivates you, and it orients you
Always remain open and eager to learn and grow. Remain inquisitive about life, wanting to find out how things work and what makes it work. If you're not growing, you're going backward, and the world will pass you by.
Don't let yourself get consumed by any one aspect. You've got to have a balance in your personal life and career for you to have the best, most fulfilled life.
In closing, John expressed the need to change perceptions about the banking industry, particularly with younger individuals who have this vision of banking being stodgy and outdated. "We've had an intern program that started about five years ago at our bank for college-age students. A number of them have mentioned that they never thought about banking as a career," John said. After interning, the students realized that there are a lot of cool things happening and many challenges as well, but banking is an extremely rewarding career path. "Recruiting new talent is vital for the survival of our communities in rural and non-metro areas of our country. How well would your community be doing if the community banks were not located there? What would it be like? That is a pretty sobering thought," he said.