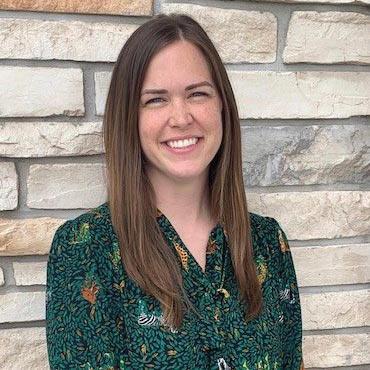 Name: Jenni Linton
Title: Vice President – Mortgage Lending
Bank Name:  Bank of Old Monroe
Where are your main bank and branches located? What is the market like?

Our main bank is in Old Monroe. We have branches in Moscow Mills, Troy, O'Fallon and Wentzville. With branches in both St. Charles and Lincoln counties, we are able to serve a vast array of clients ranging from farming and agriculture to residential construction and commercial lending.
What is something unique about your bank?
The Bank of Old Monroe was established by a group of farmers in 1906 and, through the years, has continued to serve that customer base while growing in our commercial presence. The bank is owned and operated by shareholders, some of whom are family members of the original founders. In addition to traditional banking services, BOOM has an investment services division that offers security and advisory services, including life insurance, full-service brokerage accounts, and 401(k) plans.
How did you get started in the banking business?
While working in college, I was fortunate to be part of a customer service team for a financial advisory firm. This experience made me realize that I valued relationship building and wanted to work in a field that allowed me to help individuals reach long-term financial goals. After graduating, I was hired at the Bank of Old Monroe as a Credit Analyst. I served in that role for a year before I was offered the opportunity to manage the mortgage department. Little did I know at the time that I would be leading a mortgage team through an unprecedented pandemic with historically low interest rates. This experience has helped me and my team grow both professionally and personally.
What is the most important thing you've learned from this career so far?
The Bank of Old Monroe and our team live by four very important pillars: trust, humility, integrity and servanthood.  These guiding principles have taught me to always look beyond myself to take care of my team and customers first, and everything else will work itself out.
Tell us about the bank's community investment efforts.
Our bank is invested heavily in the communities we serve. This includes monetary donations to local events and charitable organizations to volunteer our time and talents with agencies around the area. Our team recently partnered with Junior Achievement to sponsor an entire local elementary school to give lessons in financial literacy. Servant leadership is at the heart of community banking, and it is truly a privilege to be able to give back.
What is the bank's biggest challenge in internet banking/mobile banking?
I think our biggest challenge is probably the same as many other banks, which is protecting our customers' information. We have implemented many tools, but the digital world is always changing and evolving.
What's your favorite thing about your bank/banking in general?
My favorite thing about the Bank of Old Monroe is our people. Each member of our team goes above and beyond each and every day for our external and internal customers. There is never a shortage of someone willing to reach out and give a helping hand. Our culture fosters individual and collaborative growth and equips us with the tools needed to give our customers the highest level of personalized service.
If you didn't have a career in banking, what other career would you choose?
I would pursue a career in floral design. You are able to connect with people during some of life's biggest moments, just as you are able to with banking. I worked with my mother-in-law in her local flower shop during high school and college and really enjoyed it.