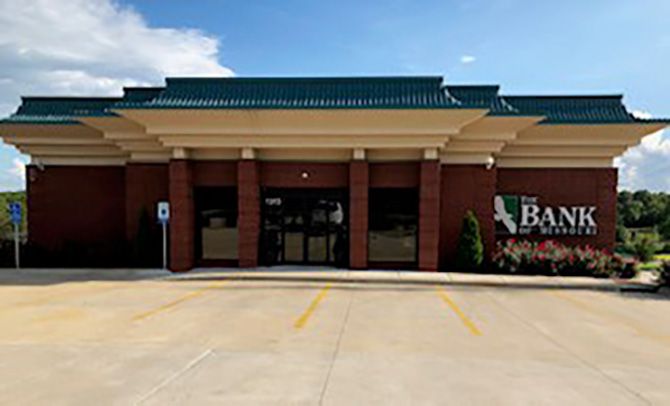 What is your background in the financial industry?
I have been in the financial industry for 14 years. Before that, I worked in the retail business as a regional manager of over 30 stores. I wanted to learn a new business, so I interviewed a branch President at one of our local banks to learn what the financial business was and what careers there were. I joined that local bank a short time later. I started working in loan operations with renewals, modifications and participations with loans. Then I transitioned into the loan assistant and processing roles, then to managing all of the loan operations and servicing. I have been with The Bank of Missouri for a year now.
What's the story behind your company, and what is your position?
The Bank of Missouri started 131 years ago, in 1891, in Perryville, MO, located close to Caper Girardeau, Mo. The previous name was The Bank of Perryville which was changed to The Bank of Missouri in 1977. We have grown to 29 branches and an Operations Center in that time. We have three regions in Central to Southeast Missouri. As our website states, "A group of Perryville neighbors saw the need for a local bank that would put local needs first." The Bank of Missouri has continued this for 131 years.
My position currently is Loan Servicing Supervisor. I have a talented team of 13 members that service all loans and a Commercial Loan Processor Manager with a team of eight commercial loan processors. Their talent and work ethic are strong, and I am very fortunate and thankful daily for them.
What would you be doing if you weren't working in a banking-related industry and why?
I have a business and management background. Maybe I would open my own bakery and coffee shop or work in home improvement. I really enjoy working with The Bank of Missouri. I will keep baking and home improvement projects as hobbies. Probably safer anyway.
What advice do you have for young professionals starting in the financial industry?
Be curious and hungry. Know the business side of your financial industry and be the expert on your team. Learn your core banking system better than others and become the leader in your area. Even if you aren't the supervisor or manager, be a leader.
Be curious, interview the department leaders and even executive leaders. Learn what their journey was and what they do daily. Ask the questions of how, what and why, then apply them to your journey. If you want to grow, you have to put in the effort. Learn as much as possible, ask for more learning and development, and search it out for yourself. It all comes down to work ethic and creating your development and growth. Do not sit back and wait. Be curious and hungry.
How is the bank responding to the increasing demands of both personal and business customers for more technology-based services, such as mobile banking?
Banks need to remember who the customer is, what they need currently, and what they may need as a service in the future. The industry needs to keep evolving with technology but keep the customer in focus while evolving. We are always asking first, "What does the customer need?" Then we search for technology that fits our customers and us as we think outside the box to grow.
What are the company's strengths from your perspective?
The Bank of Missouri's biggest strength is the people. First, our customers, who they are and what they need. We are the ones they come to when they dream of a new business, to when the hard times come, and they need us.
Second is our employees. We wouldn't be where we are today if not for our employees. Being a company that has been around for 131 years, we have longevity with our employees. They are the core of our bank. We have pulled together talented individuals who work hard and think outside the box, but the most important aspect is the collaboration of teamwork that happens every day.
How are you and/or your company involved in the community?
Each of the three regions is very involved in its communities because our families and friends are the community. We are volunteering in our schools and our local chambers. We attend community events. We roll up our sleeves, put on work gloves, help clean up, and serve food after natural disasters. We walk with our community and do not just send money; we send people.
Where is the future of this industry headed, in your opinion?
The future is always growing in technology, but one item that never changes is that our customers still want to come in and talk to someone when it comes to community banks. The future is more behind the scenes with technology for efficiencies of running the business to make it seamless for the customer and stay ahead of the industry.
What is something about your job that most people wouldn't know about? (This can be additional duties or little things you like doing in addition to your role.)
Loan Servicing is the department that knows our core banking system the most where loans are concerned. We are part of every team that brings on a new system or product that involves loans. We are part of building and mapping new technology.
If you knew me, you would know . . . what?
I enjoy riding mountain trails on my bike from time to time. It's a challenge and great to be outside in nature, away from the busyness.
What are some of your hobbies outside the office?
Home improvement projects and baking.
What is your favorite movie, 
and why?
I'm open to most movies – hate the scary ones!
What is your favorite food, 
and why?
Mexican. Love the spicy stuff.
What is your favorite vacation/trip, and why?
Vacation without a schedule. I love to explore different cities and, at the same time, love to sit on a beach or hike the trails. Don't want to be tied to a timeline.